Let's prepare for GITEX Dubai together!
So as you might already know Visuality this year is going to be present on Gitex Dubai! Such events always make people from our industry wonder what to actually do there. Unfortunately everybody wants to advertise and sell, but is standard sales talk a really good idea? Visuality participated in a lot of different conferences and meetups what's more we cooperate with companies from Dubai before so we do have some experience with that. So what you should really do to make the most out of the Gitex Dubai this year? Read my article to get some advice.
tl;dr? There's an infographic at the end of the article. But hey, don't be lazy!
Why Visuality choose Gitex?
First of all because it's the biggest & boldest Technology Show in Middle East, North Africa & South Asia. Gitex sets the stage for the biggest tech showdown, featuring over 4,800 companies and startups from every corner of the ecosystem and the globe...you just have to be there ;) And of course to advance our business and technical skills attending collaborative and iteractive lectures from some of the best names in the industry. And last but not least because we have already made a couple of projects with companies and Product Owners from Dubai and we truly love our cooperations and wish to work again in the future with businesses from United Arab Emirates.
Sales
Make friends, not leads.
As an owner of the company togtI often pitch my company, negotiate the conditions of the contract, So you'd think that during Conferences I would run around the venue and molest people with my pitch. Well, I tried once and the outcome was underwhelming. As everybody wants to sell their product or service, after hearing out 20th sales rep in a row, people lose interest and even if normally there would be chemistry between you and him/her, they just don't give you a chance to glow.
My advice to you? Don't choke people with the information and pitches. Be natural, and show honest interest in other people and their products, and most importantly LEARN from them. Yup, conferences are the best place to learn about clients' needs and demand. Based on that, you can prepare an offer that would match clients' needs the best.
Another important thing is to connect people at the conference. Somebody told you that he/she is looking for an investor and another stand visitor told you that is looking for a startup to invest in. Connect them! It costs you nothing and you can help people out. They will for sure remember that favor you just made them and who knows, maybe they will recommend you to a person that will buy your product or services.
Knowledge is power
On conferences such as GiteX you will be able to participate in hundreds of lectures and discussion panels. Before the event browse through the agenda and prepare a list of the events you'd like to see, you can check it here: https://www.gitex.com/conference_gitex Ask your companions to do the same and decide who goes where. When you're already there listen carefully to learn about upcoming trends in your area of business. You will know what to expect from your future clients and you will have time to research and be ready for the challenges. Remember that you shouldn't only pick the events from your general area of expertise or interest.
Explore
The city of Dubai - the biggest city of United Arab Emirates is full of interesting places and buildings to explore with some common 'must sees' like Burj Al Arab, Burj Khalifa or Palm Islands. Try to mix with the crowd, visit places locals love, eat food you won't be able to try at home. Maybe you can already recommend us something? Don't hesitate! If you get to know the city well, when you meet a client from that city in the future you will have some things to talk about. If somebody starts to tell me about my favorite burger bar in Warsaw I feel a connection with him right away!
Come earlier and come back later
I recommend you coming 1–2 days before the fun begins and give yourself extra time after the conference is over. Especially coming earlier is a good idea as you will have time to get familiar with the city, transportation, adapt to the timezone if you come from a different one. Many people do so and you will have a chance to meet them before you get to business. Before the conference, you can also schedule some appointments with local companies that are interested in your services or product. During the conference, everybody is busy, tired and already have some plans so it might be tricky to meet for a coffee between the lectures and panels.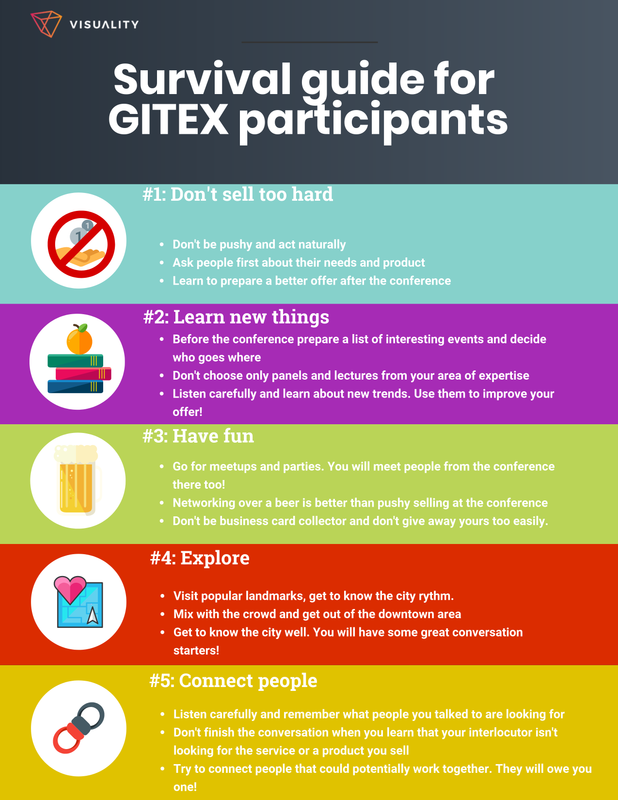 See you around?
We will have our own exhibition stand somewhere between hundreds of companies. We hope you will notice us! **But if you are afraid that you are going to miss us, please write me an email at m.piorkowski@visuality.pl
or schedule a meeting with us in there! Calendly
Let's hang out together! See you in Dubai!**
Do you want to learn more about what we are doing in Visuality? Check our Catalogue! http://bit.ly/Visuality_Catalog